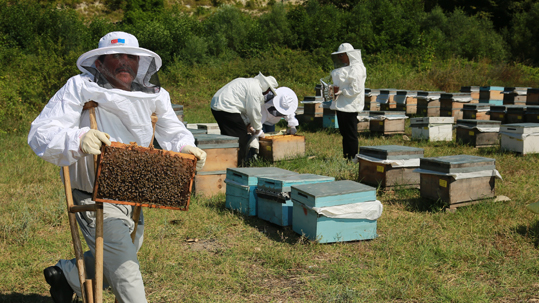 The world of beekeeping as a pastime is vast, but little is known about it. Most beekeepers continue to be enthusiasts and will maintain beekeeping until the day they pass away. Because beekeeping is a pastime for them and takes up their free time, these beekeepers contribute greatly to the industry. Because they have the time, hobbyists take notice of everything, and many of the innovations used in commercial beekeeping have originated from their observations.
Hobbyists experiment as well.
The hobbyist will experiment and purchase cutting-edge equipment from bee supply stores even though they don't need it. In contrast, the commercial beekeeper just doesn't have the time to do so. They will put them to use and either disprove them or proclaim their effectiveness. In the field of beekeeping, hobbyists are just as important as the biggest producers of honey.
Beekeeping for the disabled
A lot of disabled people might benefit from beekeeping. This would obviously depend on the severity of their impairment, but for people who use wheelchairs, low hives (like the Dartington hive, where the combs run horizontally rather than upwards in supers) or African long hives (which operate on the similar principle) may be utilized. A man with a disability questioned me about the Spanish Layens hive because he thought it would be good for him. These are a single box with a hinged lid, and he discovered that he could use them while in his wheelchair.
There are many really effective initiatives in underdeveloped nations that have disabled persons learn about commercial beekeeping. The Food and Agriculture Organization's (FAO) projects have had great success. Associations and education in beekeeping Hobby beekeepers are typically the heart and soul of local groups in the majority of countries. They plan the social events, the speeches, and many of them get involved in setting up beekeeping classes. These classes are highly recommended for beginners, not least because you may discover that you don't actually enjoy beekeeping after all, in which case you may walk away without spending any money.
Since there is always more to learn about beekeeping, most societies provide courses at different levels, and you can progress through the courses to a very high level. The National Diploma in Beekeeping, or NDB, is a credential offered in the UK. As a graduate and postgraduate myself, I have seen the coursework for this and spoken to several beekeepers who have passed the exam, therefore I don't see why it isn't referred to as a degree. It definitely requires a greater level of knowledge than some of the degrees I have seen in order to pass. It is, in my opinion, incredibly typical of the UK to not do this.
Jobbing beekeepers
Jobbing beekeepers with some experience can get employment with commercial organizations all throughout the world.
securing a job
Unfortunately, there is no centralized, global organization that compiles beekeeping job openings, and beekeepers typically only advertise in local newspapers. Therefore, posting an advertisement in a foreign magazine or newspaper is one technique to locate a job abroad.